Engineering the most efficient solution for your milk transport requirements is not just about having the lightest tanker on the road with the greatest payload.
It is about prioritising requirements and ensuring the tanker can meet the needs of the customer. We work in partnership with our customers to provide
best-in-class road tankers.
By utilising our years of experience in designing and manufacturing road tankers, we can customise each vehicle to ensure your tanker is suitable for all your business needs.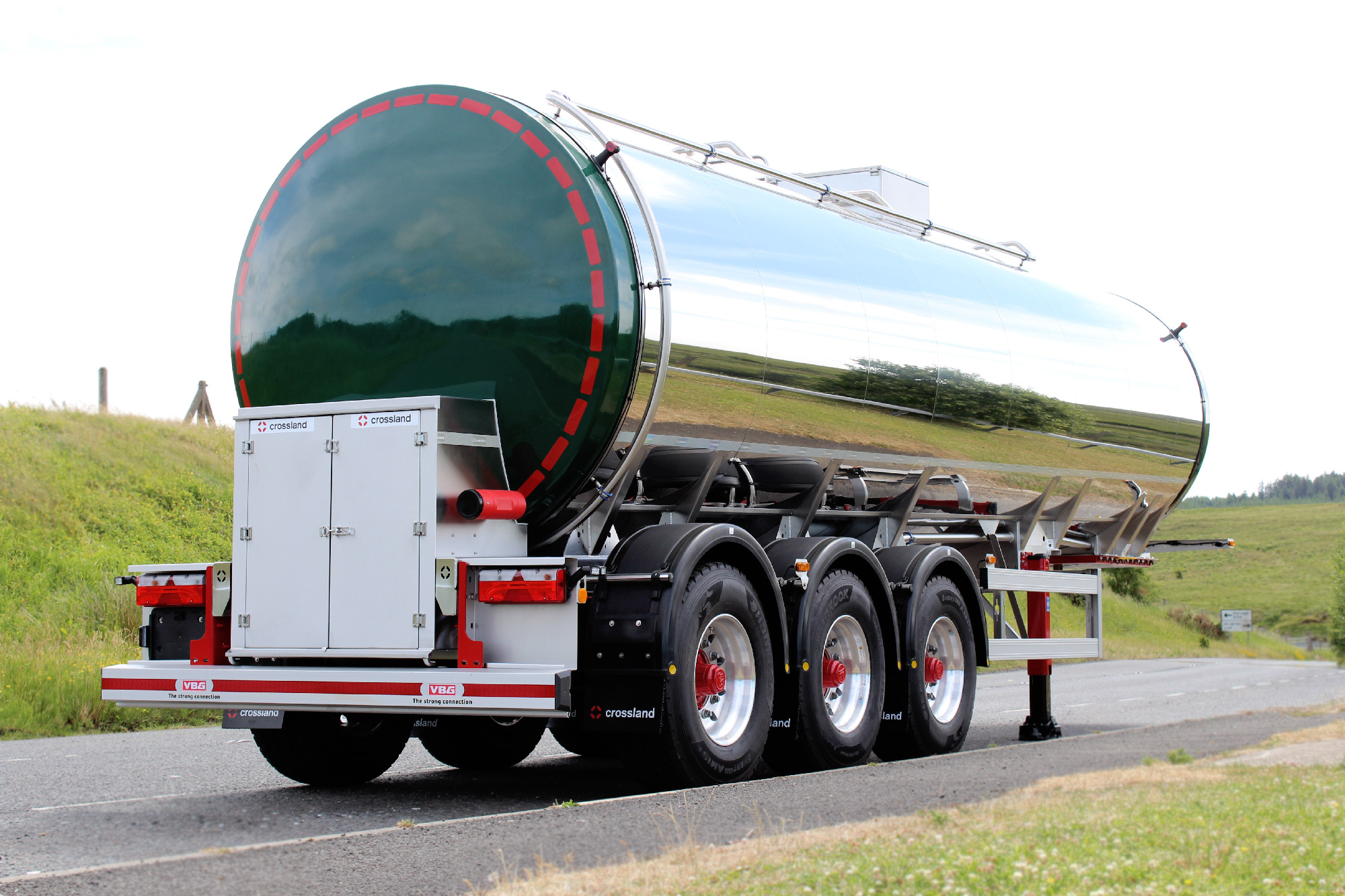 Crossland have produced tanks for almost all UK and Ireland's major dairy markets. We can help you find the most efficient solution for milk transport requirements.
The value of Crossland's services lies in the company's commitment to providing reliable, innovative, and high-quality tankers to our customers. As with any engineered product, there are multiple ways to optimise milk tankers and improve the overall efficiency of it, just like there are multiple operation types.
Crossland have the experience of delivering them all, from ultra-light weight reload tankers designed for 90% motorway work to waggon and drag where access and volume fluctuation is an issue to Tankers for arduous road conditions.
---
Reliability, Cost and Weight
The core decisions that are discussed with each purchaser to create a valued added solution are:
Reliability, Cost

 and 

Weight.

By applying these basic principles and understanding your transport model, Crossland will guide you on finding the perfect tanker suitable for all your business needs. (See Figure 1 – on how Crossland engineers decide the best tanker for your operations.)

---
Different

solutions

driven by different

requirements

.
Crossland's highly skilled engineers utilise decades of experience to ensure our tankers are the best in the market. Here are just a few of the ways that listening to the customer has driven us to offer product flexibility of our milk tankers for the UK & Irish market
→ Stainless Steel (S/S) Bogies
Some Customers probably won't remember the bad days of having Mild Steel bogies. When Crossland first came to market we decided to do it differently and supplied tankers with stainless steel bogies to decrease the whole life cost & improve the reliability of our tankers. This means a refurb after 10-15 years only requires axle replacement and not replacing the entire bogie assembly.
→ Spill Box Wash Systems
Crossland were one of the pioneers of fully ground based systems and since most milk reception sites in the UK no longer permit tank top access, our unique ground operated washing system allows operators to wash the top spill box internally whilst also ensuring a cleaner top box rather than the use of traditional spray balls that are prone to missed areas.
→ Automatic Ground Operated Venting
Our tankers are equipped with automatic ground operated vents as standard to give our operators peace of mind when discharging milk.
→ Extensive Custom Lighting Options
For night-time operation in the terrible weather, Custom Lighting Options helps to increase safety for operators and make your tank stand out from the crowd.
→ ATP Rated Insulation
Full compliance for any operators travelling across international borders, which is especially important since BREXIT.
→ DTAS Compliance
Crossland engineers are represented at DTAS meetings ensuring that we are on top of the detail and produce a trailer that meets (or exceeds!) the requirements of the authorities.
→ Enhanced Locking Features
Our enhanced automatic cabinet locks offer an extra layer of protection when load security is a priority.
→ Closely working alongside different milk metering system suppliers
Crossland have established a close relationship with various milk metering system suppliers, which can help with efficiency, reducing costs and improving work environments in these areas. We can offer customised pipework with pumping speeds of XL/Min with 4" pumps and XL/Min with 3" pumping solutions.
---
Key factors when

operating your milk tanker.
The key factors when operating a fleet of milk tankers are to have them collect as much milk in the shortest amount of time, at the lowest cost and at the same time, contributing to a better environment.
→ We have designed and built reload tankers with farm collection capabilities. These give almost the payload of a normal reload with the ability to collect x farm. Whilst it sounds easy to deliver such a product, it isn't. A reload has a lightweight shell and an "on Road" running gear.
→  In order to carry out this task, and be capable of running down remote farm lanes, our engineers have redesigned and strengthened the running gear to improve longevity of the product.
→ However, there is a payoff with such a tanker. Without the usual rear-steer solution, it decreases the manoeuvrability. It is important that the route the tanker is taking & the work it is likely to do in the future is properly discussed between Crossland engineers and the customer. We are your partner whenever it comes to improving the efficiency of your payload capacity.
---
So, if you're interested in discussing how to make the most of your milk tankers or you are interested in understanding how you can improve your operation with new equipment, Crossland can be your partner in engineering the most efficient solution for milk transport requirements.
Give us a call on 02879401555 or drop us an email at info@crosslandtankers.com
22nd March 2023
Posted by: Ciar McEldowney