Here at Crossland we take great pride in being able to help others. We hold a lot of charity events and have great fun when doing so.
First up, our family fun day back in September 2018. We had something on offer for everyone including pony rides, face painting, live music, raffle prizes, vintage cars, bumper cars, a magician and not to mention the opportunity to sit in the cab of a tanker!
We raised a great amount for our chosen charities, Age NI and Kidney Research NI and we were extremely happy whilst doing so. The day was a huge success in bringing the local community together and helping those in need of our support.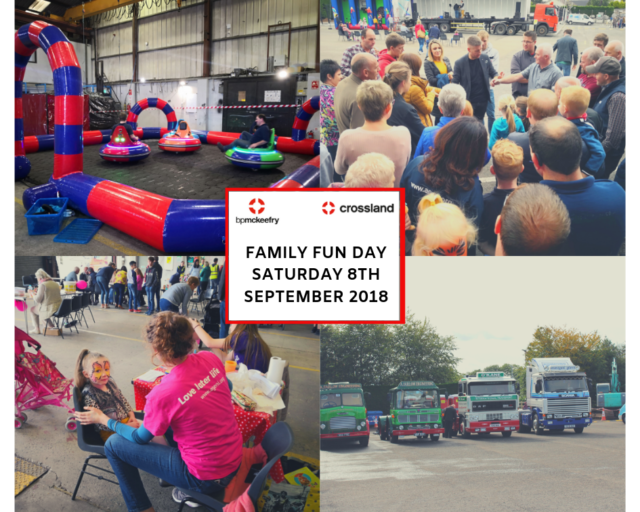 We continued on then thorought 2018 with numerous events; a football collection, a mud run, bonus ball for rugby tickets, a Christmas jumper & BBQ day, followed by a Christmas hamper. All these fantastic events where all in aid of Age NI & Kidney Research NI and we can proudly say we raised fantastic funds to help this charity help others.
2019 so far…
We may only be halfway through 2019 but our charity efforts are still going as strong as ever with the help from our established charity committee. Employees took part in a charity weigh-in in April 2019 in aid of Kidney Research and Prostate Cancer.
Also in April, the Jungle Rampage, and no, we are not talking about the daily race to get into work the quickest, but one of Ireland's most unique obstacle adventure races. It entails a 10 km run whilst demanding tasks and obstacles stand in your way and not to mention overcoming the lashings of mud they throw in there just for fun.  Our team rampaged on anyway and got the job done.
We produced the Easter hamper just in time to fuel up our runners for the Belfast marathon, we figured the extra chocolate from the Easter bunny would give them all the extra hop they needed to cross that finish line.
Huge Congrats to all who took part and completed the Born Survivor Challenge from our Burnley team. It's said to be one of the most rugged and inspirational terrains in Britain and we are extremely proud of these survivors.
The Burnley team have been working hard on our tanks and turning into tanks themselves with all the training for these charity events; the Blackpool half marathon, Manchester 10k, Yorkshire 3 Peaks and preparation for Tough Mudder upcoming in September.
Thank you!
As mentioned above our chosen charities for 2018/2019 were Age NI and Kidney Research NI, follow the links for more information on these wonderful charities.
We are so very proud of each charity collection we hold no matter how big or small, we are so appreciative of our wonderful employees who get involved and help us help others. So, to everyone who played a part at Crossland Tankers, we thank you very much!
Have a peek at our gallery below, whether it's to get a giggle or find inspiration.
4th August 2019
Posted by: Hannah McCusker