Crossland tankers were proud to attend the 2019 Tank-Ex Show in Harrogate.
This show provides the perfect platform to showcase the most innovative ideas from manufacturers far and wide and promoting the business of bulk haulage.
This was no exception for us here at Crossland as we took the opportunity to introduce a new 6.2-tonne molasses tanker to this year's show. This tanker comprises of a stainless steel lightweight single compartment that holds 28,000-litres.
We are very proud of the engineering solutions and quality of products we offer to our customers at Crossland. We have the flexibility to offer a multitude of options and variants for customers who wish to tailor their trailer to their own certain requirements. We promise to make the process as simple as possible.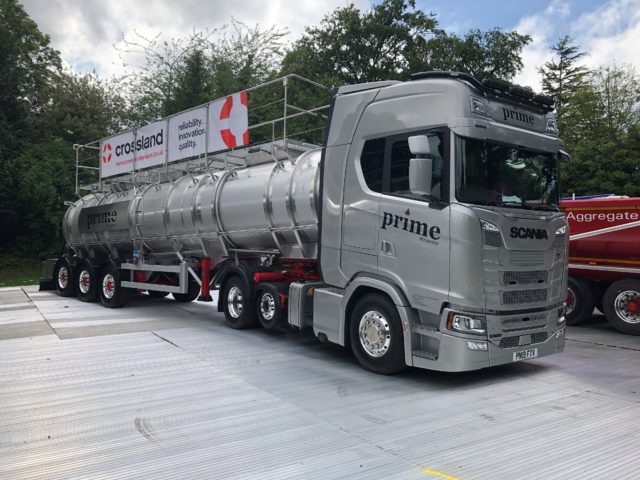 What it Features
One of the two unique features of the design was the positioning of the side mounted ladder, allowing the hose to be used on either side, this comes with its many benefits;
Accessible use without having to drag it below the rear end
Reduced wear and tear
Minimising operator processes involved
Secondly, the tank-top walkway occupies the full width with both sets of handrails operational from above or at ground level with control panels located in both places. This second feature allows;
The left or right side to be lowered or raised individually
Ease of gantry raising
Increased operator safety
The ability to load the trailer despite various sites configurations
Tailor the Trailer
In order to meet the customer's specifications, this tank was fitted with two baffles and three manways for easy access as well as easy cleaning and loading. We were able to make other improvements on the customer's previous tankers such as; payload and the safety and ergonomics of users by solving practical user issues.
Lighting was enhanced for optimal all-around working visibility using "scene-down-lamps" along with extra reverse and work lamps. The vessel was also fitted with a hydraulically driven high output pump. By combining all the benefits above with a shorter lead time than others you can see why we are proud of our products on the UK and Irish roads operating day in & day out. As always, you can rely on us to provide the innovation and quality you deserve.
For more on the trailer and the show check out Commercial Motor.
Tank-Ex was a major success and our unveiling of the tanker was tank-tastic, however, if you missed us on the day and have any further questions or enquiries please feel free to get in contact with a member of our team at sales@crosslandtankers.com, otherwise, give us a call +44(0)28 7940 1555.
1st July 2019
Posted by: Hannah McCusker